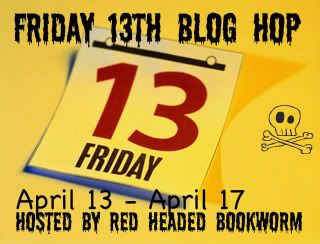 Are you superstitious? Do you believe bad things will happen on Friday the 13th? Well, not around here. I am hosting a Friday the 13th Blog Hop Giveaway! Help me lay the fears surrounding this day to rest by hosting some great giveaways!
Hop Rules:
You must host a giveaway on your site, you are responsible for obtaining a prize for giveaway and taking care of the shipping charges.

You must giveaway something a reader, author or blogger would enjoy.

Your giveaway post must include the hop image & linky (or links to the host's sites if you can't get the linky to work).

Please only 1 mandatory entry (up to 5 optional extra entries

Hop will run April 13 - April 17



Please grab the button on the right and advertise to let other bloggers know about this hop. I would like to have at least 20 blogs for the hop. Thanks
To host a giveaway add your blog to the linky with your shipping info in parenthesis following your blog name.