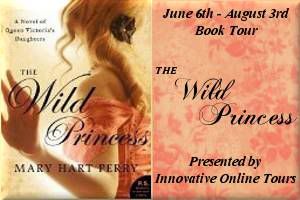 Welcome to my stop on The Wild Princess Tour brought to you by Innovative Online Tours. Check out my review and visit the other blogs for more reviews, excerpts, and giveaways!
To the court and subjects of Queen Victoria, young Princess Louise—later the Duchess of Argyll—was the "Wild One." Proud and impetu­ous, she fought the constraints placed on her and her brothers and sisters, dreamed of becoming an artist, and broke with a three-hundred-year-old tradition by marrying outside of the privileged circle of European royals. Some said she wed for love. Others whispered of a scandal covered up by the Crown. It will take a handsome American, recruited by the queen's elite Secret Service, to discover the truth. But even as Stephen Byrne— code name the Raven—vows to risk his life to protect the royal family from violent Irish radicals, he tempts Louise with a forbidden love that could prove just as dangerous.
In the vein of Philippa Gregory, Mary Hart Perry tells the riveting story of an extraordinary woman—a princess who refused to give up on her dreams, including her right to true love.
My Review
First let me say, Historical Romance is not my preferred genre. But after reading the synopsis for this book, I was intrigued. I mean, who doesn't love a good scandal? The descriptions in this book are very vivid. You feel like you are walking through the scenes in this book. The main character is a strong woman who stands for what she believes. I am really glad I gave this book a chance!
Good Book!
Mary Hart Perry lives in Maryland with her husband and two feline writing partners: Miranda and Tempest. She teaches at The Writer's Center in Washington, DC and is an inspiring speaker for international and regional organizations interested in the joys of history and fiction writing. She is an advocate for teen and adult literacy. You can reach her at
Mary@MaryHartPerry.com
. She invites you to "like" her Facebook page and follow her on Twitter @Mary_Hart_Perry.
Check out these other stops for more information about The Wild Princess!
6/15 My Secret Romance /Interview


6/15 Window on the World /Review

6/18Adventures of Frugal Mom /Review

6/18 Reading Between the Wines /Excerpt
6/19 Red Headed Bookworm /Review and Give Away

6/22Reviewing Shelf /Review
6/27BookSpark /Review and Give Away
6/27 Minding Spot /Review and Give Away
6/30All Things Writing /Review
7/3 Ramblings of an Amateur Writer /Excerpt and Giveaway
7/3 Wonderland Reviews /Review and Give Away
7/3 Ramblings From This Chick /Excerpt
7/5 A Date with A Book /Interview and Give Away
7/6 Soliloquy /Review
7/13 A Soul Unsung /Bio, Synopsis, Excerpt
7/16 Books, Books, and More Books /Review
7/16 Jeanz Book Read N Review /Interview
7/17 Bibliophilia, Please /Review and Give Away
7/18 Reader Girls /Excerpt
7/18 The Book Hoard /Excerpt


7/19 I Just Wanna Sit Here and Read!" /Guest Post

7/20 A Great Book Is The Cheapest Vacation /Excerpt

7/20 Melissa's Eclectic Bookshelf /Excerpt


7/23 For The Love of Film And Novels /Review

7/23 Always a Booklover /Review

7/25 Turning The Pages /Review

7/27Lissette E. Manning /Review

7/30 The Lucky Ladybug /Excerpt


7/30 The Story of A Girl... /Review
7/30 ¡Miraculous! /Review and Give Away

8/3 A Night's Dream of Books /Interview

THE RELEASE DAY ALL REVIEWS BLITZ!!!




Simply Ali

Bumbles and Fairy Tales

Ali's Bookshelf

Understanding Shae's Story

Sapphyria's Book Reviews

The Lucky Ladybug