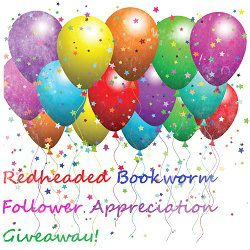 When I started blogging in March, I had no clue how much work it was going to be, and I don't even work at it full time. I have a job and a family, so I only post a few times a week. I just wanted a place to discuss the books I read with other book lovers. But, I have had so much fun discovering new authors, books, and some really awesome people in the blogoverse! I have decided I need to do something special for my devoted followers. But what? I am totally addicted to giveaways! (don't judge me, I am looking into getting help for it.) So, how about a monthly giveaway? Each month I will giveaway books (either print or digital) and swag. Thanks to all my followers. Redheaded Bookworm would be nothing without you so, without further ado, here is my first monthly giveaway!
What's up for grabs this month?
A print copy of Kiss of Midnight by Lara Adrian and a Redheaded Bookworm magnet! You have plenty of chances to win. Do as many or as little as you like. You do have to follow as this is a follower appreciation giveaway. US Only.
Must be 18+ to enter!
a Rafflecopter giveaway