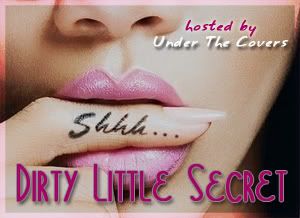 Dirty Little Secret is a weekly meme hosted by the wonderful blog
Under the Covers
. Where the goal is to get to know bloggers and readers more intimately by asking a question in the hopes of revealing their dirty little secrets!
To participate in the meme all you need to do is:
1. Be a follower of Under the Covers.
2. Create a post in your blog taking the meme image and copy instructions.
3. Answer the question that is proposed!
4. Then link to the Mr. Linky on the Dirty Little Secret post at
Under the Covers
Non-bloggers: We want to hear from you as well!!! Let us know your answer in the comments!
We hope you join us and let us know your Dirty Little Secrets!
This weeks question:
"Now that Lover Reborn has come and passed, what book are you most looking forward to?!"
My Answer:
ONCE BURNED
Goodreads Synopsis:
After a tragic accident scarred her body and destroyed her dreams, Leila never imagined that the worst was still to come: terrifying powers that let her channel electricity and learn a person's darkest secrets through a single touch. Leila is doomed to a life of solitude... until creatures of the night kidnap her, forcing her to reach out with a telepathic distress call to the world's most infamous vampire...
He's the Prince of Night...
Vlad Tepesh inspired the greatest vampire legend of all — but whatever you do, don't call him Dracula. Vlad's ability to control fire makes him one of the most feared vampires in existence, but his enemies have found a new weapon against him – a beautiful mortal with powers to match his own. When Vlad and Leila meet, however, passion ignites between them, threatening to consume them both. It will take everything that they are to stop an enemy intent on bringing them down in flames.
I fell in love with him the very first time he was introduced in Jeaniene Frost's Night Huntress series! Sarcastic, sexy and HOT (literally). Cannot wait to get my hands on him...er..I mean his book!
Now tell me what your Dirty Little Secret is!