Wow, did you see this?
For a limited time, and at a special price of $1.99, discover
Eternal Kiss of Darkness
by
New York Times
bestselling paranormal romance author Jeaniene Frost. Plus, receive the first three chapters of her new Night Prince novel, Once Burned, available wherever books are sold June 26.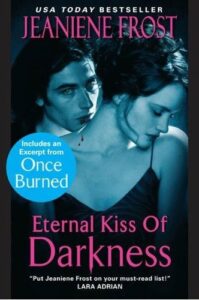 In
Eternal Kiss of Darkness
, after four thousand years among the undead, very little catches Master Vampire Mencheres off guard. So when a petite but brave-hearted private investigator interrupts his fight with a gang of ghouls, he's prepared to patch her up and erase her memory before sending her on her way. But the bronze-haired beauty's mind is impenetrable, and the seasoned vamp may just be in for a surprise or two . . .
Kira Graceling long ago promised herself that she'd never again be a victim-and she'll do her best to protect innocents around her. So when she dives head first into a brawl, and finds herself whisked away by a startlingly handsome stranger, she makes it clear she won't be at anyone's mercy.
Mencheres is also no stranger to betrayal, and as sizzling tension ignites, will the millennia-old vampire and the world weary officer finally learn to trust—or love—again?
At this price, you can't lose. Not only do you get to read about the sexy Mencheres, but you get the first THREE chapters of Once Burned! And you get to watch this great trailer! Aren't you the lucky one?
Order at
:
Amazon
,
Barnes & Noble
,
iTunes
,
Sony
,
Kobo
You find the full list of Night Huntress and Night Huntress World books
HERE